KALEVALA EXPERIENCE
GENERAL INFORMATION
Package type: 2 days
Season: May–September
For whom: groups (min. 5–max. 20 pers.)
Services included: transportation from Helsinki and back, guiding in destinations, accommodation, meals, programme visits. Optional – hosting guide and extra programmes as described below.
Duration of the programme: 2 days
Type of transport: taxi / tour bus
Notice: outdoor clothing and footwear for walking on the forest and lawn paths recommended
LOCATION: Lohja region
Distance from the capital: Helsinki 80 km
Hosts: on sites as per programme and optional – a hosting guide during the whole trip
Contact details:
T.: +358 44 369 1309
E-mail: Visitlohja, tourist@lohja.fi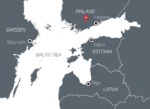 The tour visits the sites of the Finnish national epic Kalevala which has shaped the nation's identity. The epic is a collection of thousands of poems by writer Elias Lönnrot who was born in the Lohja region in the 19th century. The Kalevala relates stories of love and loyalty, hatred and jealousy, it tells about the prehistoric past when people lived closer to nature. The Kalevala epic has inspired generations of artists, cloth and jewellery designers, musicians, and film producers.
The hosts on this tour are enthusiastically specialised in Finnish traditions, forest and wild animal mythology. Their lifestyle is practicing and integrating the art and handicraft skills and methods from the old times, as well as creative activities based in the Kalevala mythology, into today's life.
This unique tour presents a manifestation in the material world of the mythological epic Kalevala. The 2-day programme can be prolonged by adding extra optional visits as described below.
Day 1
09:00 Departure from Helsinki. Drive to Wäinölä next to Nuuksio National Park.
10:00 – 13:00 Programme "The Magic of the Kalevala".
The programme takes place in Wäinölä, among the woods that are dedicated to Finnish folklore and traditions. The hosts are the Nuuksion Taika family company, with a strong connection to nature.  www.nuuksiontaika.fi/
Welcome with herbal drink and traditional Finnish salty pastry by the campfire.
Visiting the Bear-hut, hearing and learning about bear-mythologies, listening to stories and songs from the Kalevala epic.
Folk musicians will sing traditional Finnish songs and play traditional Finnish instruments such as kantele.
Lunch: a wild mushroom pie with wild herbs and green salad, and a dessert made from forest berries and honey.
Gift shop: Finnish handcrafts and wild foods.
13:00 – 14:00 Drive from Wäinölä to Siuntio.
14:00 Meet sculptor and environmental artist Jenni Tieaho and musician Ulla Hillebrandt.
Jenni will talk about her art – the core of her work is in utilising natural resources such as willow, birch bark and other plant parts with steel to compliment them. Inspiration comes from Finnish mythology and forestry fables. https://jennitieaho.fi
Folk musician and nature therapy guide, Ulla Hillenbrandt, will bring the mythic stories of Kalevala alive by singing, playing and interacting with guests. ulla.fi
Coffee and tea served with snacks. A small gift will be given as a memento of this visit.
There will also be an opportunity to take photos wearing clothes made from natural ingredients from nature.
16:00 – 17:00 Drive from Siuntio to Mustio Manor.
18:00 Mustio Manor – dinner and overnight.
Dinner in the manor restaurant with meals and drinks from local ingredients. Accommodation and free time to enjoy the beautiful garden and historical surroundings of Mustio Manor.  www.mustionlinna.fi
Day 2
08:00 – 10:00 Breakfast in Mustio Manor.
10:00 – 10:30 Pickup and drive to Sammatti village, the birthplace of Kalevala writer Elias Lönnrot.
10:30 – 13:30 Programme "A visit to the roots of Kalevala and Elias Lönnrot´s Sammatti."
Drama guidance excursion hosted by Virko Kolulahti, a drama character Miina Lönnrot who was Elias' niece and housekeeper. She will introduce the rural setting and life in the early 19th century that inspired the creator of the Finnish national epic. https://www.virko.fi/
Visiting an arts workshop with the hostess Ms. Virko Kolulahti. The blacksmith Mika Munter creates his blacksmith art based on Kalevala. He will show guests around the forge and talk about his arts projects related to the Kalevala epic finishing with coffee and a snack and an opportunity to buy Mika's forging work.
13:30 – 14:00 Drive from Sammatti to Kettukallio Experience Farm. www.kettukallio.net
– 18:00 Programme "Fox Trail".
Guests are greeted with Kalevala welcoming rituals including a local traditional drink and seasonal snack.
A Fox Trail walk with a nature therapy guide in the forest of Kettukallio to enjoy forest views and relax in nature. Participants will hear the myth of a sly Finnish fox, sing along with traditional songs coloured with old folk music instruments.
Lunch: Kalevala beef stew with bread and fresh salad, for dessert – the traditional Finnish blueberry pastry, called rattan, with coffee or tea.
Gift shop.
18:00 – 19:00 Transfer back to Helsinki.
19:00 Arriving at the Hotel in Helsinki and free time in the city.
MEET THE KALEVALA DESIGNER AT THE KALEVALA EXPERIENCE SHOP IN HELSINKI
Duration: 1 hour
The Kalevala Experience shop is located in the heart of historical Old Helsinki by Senate square in its oldest building, built in 1763. The shop is the only Kalevala shop in Finland exhibiting designs and fashion stories inspired by the Finnish national epic and Finnish nature and lifestyle.
Mai Niemi, the designer and shop owner, describes herself: "…..I pay tribute to the Kalevala wisdom and Finland's prehistoric past as one of the most original Finnish fashion designers. My recognizable etno-futuristic style and Scandinavian mythology combines the magic touch of fairy tales and legends with modern minimalism, brightness and novelty."
The programme includes:
Welcome drink on arrival.
Mai Niemi tells a Kalevala fashion story, opening the magical and timeless Kalevala world and how she herself became a Kalevala fashion artist.
Shop introduction and optional shopping with 15% group discount on shop products.
Farewell gifting personal Kalevala connectedness.